September 22nd, 2020
The Mothman Legacy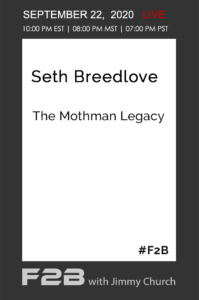 Tonight, Director Seth Breedlove joins us for a very special evening and the announcement for the premiere of his new film: The Mothman Legacy.
The Mothman Legacy is the story of one of the most frightening American urban myths, the legend of The Mothman, a red-eyed creature seen by some as a harbinger of doom in 1960s rural West Virginia, where sightings of the winged demonic beast were first documented near an old munitions dump known by locals as TNT.
Many believe the Mothman to be a 1960's phenomenon, an omen only appearing before tragedy, and disappearing after a flap of sightings and the subsequent Silver Bridge collapse in 1967. But what if there's more? What if the origins of this omen trace back much further and go much deeper than anyone realized? And what if…the sightings never ended?
Seth Breedlove is an Ohio filmmaker. He has written, edited, produced and directed shorts and features about a variety of topics but is best known for his production company and the films they've produced under the Small Town Monsters banner. Before film, Breedlove wrote for a number of websites, newspapers and magazines and learned some of the skills he employs as a director while working as a reporter. Breedlove has also appeared on numerous television and radio programs.
Website: https://www.smalltownmonsters.com/