October 10th 2018
Jacob's Ladder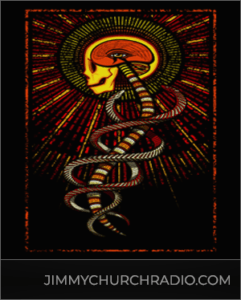 Brad Klausen grew up in Southern California and moved to Seattle in 1999 to begin a nine-year career as the in-house graphic designer for Pearl Jam.
In July 2007 he launched Artillery Design, his one-man design shop where he continues to make posters for Pearl Jam, Built to Spill, Widespread Panic, and many other bands.
Brad's book, 'NEW From a Basement in Seattle: The Poster Art of Brad Klausen' is an extensive look into the creative process through which Brad generates imagery for rock posters for Pearl Jam, Built to Spill, Queens of the Stone Age and others.
Tonight we will discuss Klausen's journey in discovering the symbology in ancient Egyptian art and sculpture and his contribution to the Magical Egypt documentary and symposium and how he uses it today in his own artwork- both personal and in the world of Rock and Roll.
Website: https://www.artillerydesign.com/main.php