August 17th 2016
House At The End Of The Drive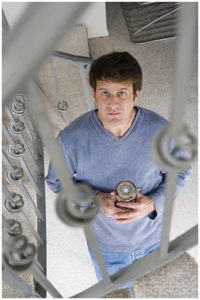 David Oman (Poltergeist Agent/Producer/Creator/Co-Writer/) A native of Los Angeles, Oman has been intrigued by the paranormal from his early childhood and has been curious about the Spirit World ever since. In 1999 Oman started helping his father build 'the house' on Cielo Drive, just down the drive from the infamous Sharon Tate Murders aka the Manson Murders – after 2 years of living in the house he created a story based upon his experiences in the home with the activity, titled, "House at the End of the Drive". He self financed the movie and shot it on location at his home and brought his story to life. Since he moved into the house the activity has been quite apparent so much so that the Oman house has been on seven paranormal reality shows, Ghost Hunters, Dead Famous Live, Searching for Satan, My Ghost Story, in July 2013 he was on History Channel 2 show, Haunted History and SyFy's, Paranormal Witness. February 15th 2014 the season 8 premiere episode of Ghost Adventures aired and it was the highest rated episode to date, it dealt with the investigation at the Oman house. Recently David was on Ghost Adventures After Shocks on March 28 2015. The Nielsen Ratings reports on the 6 episodes on 4 different networks has been compiled. It showed between January 2007 and December 2015 that these shows have aired more than 700 times with very solid ratings. He has also been featured on Larry King Live, EXTRA and TMZ and in October 31st CBS News LA. He has done over 100 Radio Programs including, Coast to Coast with George Noorie, NPR Radio as well as internet radio programs as well. His house has also been visited by Lisa Williams, Zak Bagans, James Van Pragh, Chris Fleming, Nick Groff and many other famous paranormal experts and they have had wild experiences here as well.
Website:http://houseattheendofthedrive.com

Chris Medina is a natural born Psychic-Medium with Native American ancestry (Apache) born and raised in Los Angeles, CA. His earliest memory of having this 2nd sight was when he was about 3-4 years of age. Friends and family would come around and he would hear and see things about a certain person or persons that were so specific, telling them this information often came as a shock. Being so young, he could not understand why everyone else didn't know or see the same things that he did.
The realization of what he could do made him understand how very different he was from most of the people that he encountered. It became apparent that he was seeing more than just faces and clothes on people. As he got older, his senses became stronger and the encounters were not always pleasant. He began to see energies, as well as the ability to hear certain things.
One specific encounter that still sticks with him today is when Mr. Milton William Cooper payed him a visit in 2008. It was always from a dream state and through a radio. Chris could literally hear the feedback coming through. Cooper was very insistent on showing him "certain" things. He showed Chris things that he was not aware of in his material life: chemtrails, Government conspiracies, aliens, etc. He was very adamant and always made sure Medina remembered what he was saying the morning after, by repeating it over and over.
Tonight we will discuss William 'Bill' Cooper, Medina's life as a psychic and his mission in life.
Website: http://www.platinumpredictions.com/