DisclosureFest Special Event On Fade To Black
June 20th 2018
The Mass Meditation Initiative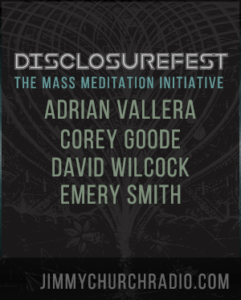 DisclosureFest 2018 will take place this Saturday, June 23rd at the Los Angeles State Historic Park in downtown LA, California.
The park is over 35 acres and this year's event will have two huge outdoor stages, a film fesitval, over 100 conscious brands, 40 healing tents, 20 vegan food trucks, 45 speakers and workshops, a Starseed childrens area, 18 live musical performances, a sound healing dome, an art walk and one of the largest mass-meditations in the world... and tickets are totally free!
Tonight on FADE to BLACK our guest is Adrian Vallera, co-founder of the DisclosureFest... and our guests are David Wilcock, Corey Goode and Emery Smith... who are all featured presenters at this year's festival... other speakers include Nassim Haramein, David Wolfe, Zarathustra and Clifford Mahooty.
Website: https://www.disclosurefest.org

Premium Episode Download