On Fade To Black
November 1st 2016
Aleister & Adolf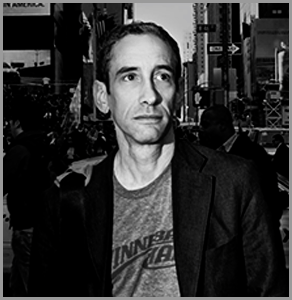 Douglas Rushkoff is a writer, documentarian, and lecturer whose work focuses on human autonomy in a digital age. He is the author of fifteen bestselling books on media, technology, and society, including Program or Be Programmed, Present Shock, and Throwing Rocks at the Google Bus. He has made such award-winning PBS Frontline documentaries as Generation Like, Merchants of Cool, and The Persuaders, and is the author of graphic novels including Testament and Aleister & Adolf.
Rushkoff is the recipient of the Marshall McLuhan Award for his book Coercion, The Jacques Ellul Award for his documentary The Merchants of Cool, and the Neil Postman Award for Career Achievement in Public Intellectual Activity. Named one of the world's ten most influential intellectuals by MIT, he is responsible for originating such concepts as "viral media," "social currency," and "digital natives." Today, Dr. Rushkoff serves as Professor of Media Theory and Digital Economics at CUNY/Queens, where he recently founded the Laboratory for Digital Humanism and hosts its TeamHuman podcast.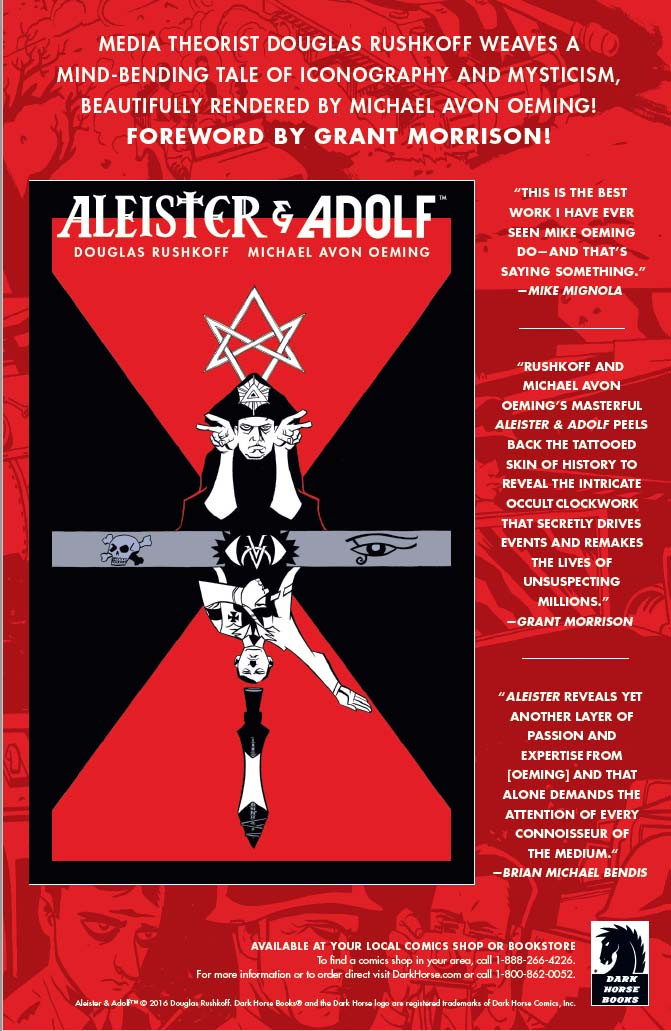 Website: http://rushkoff.com
Twitter: @rushkoff
Facebook: https://www.facebook.com/rushkoff
Books: Douglas Rushkoff Amazon Page (This is a link to ALL books.)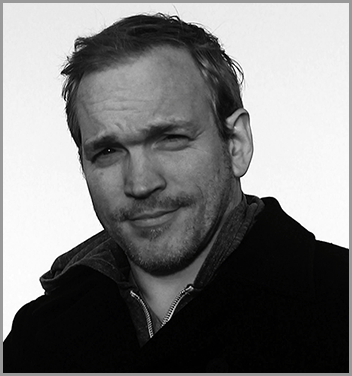 Michael Avon Oeming began his career in comics at the age of 14. His first big break was as an inker on Daredevil and shortly after as a penciler/inker on DC's version of Judge Dredd, then Foot Soldiers at Dark Horse Comics and Bullet Proof Monk at Image which became a film. Michael was nominated for an Eisner for his work on the long running Powers with Brian Bendis. Other notable titles include Spider-Man, the Avengers, Batman, Superman and his love of mythology such as Thor, Hammer of the Gods and the Mice Templar with Bryan J.L. Glass. He has created several works with his wife Taki Soma such as Rapture, Sinergy and United States of Murder Incorporated written by Bendis. Michael is an Executive Producer on the Powers TV series from Sony/Playstation. Besides mythology his interests in the occult and conspiracies which became the basis of his series the Victories and Aleister & Adolf.
Website: https://michaelavonoeming.com
Twitter: @Oeming
Facebook: https://www.facebook.com/MichaelOeming/
YouTube videos of Aleister And Adolf
Art to Crowley's words
https://www.youtube.com/watch?v=rs0a2LvgRDk
The making of a Crowley page:
https://www.youtube.com/watch?v=AJPu7UEF3lU
https://www.youtube.com/watch?v=X2fia3FUb7I