January 20th, 2021
Disclosure: CLE 2021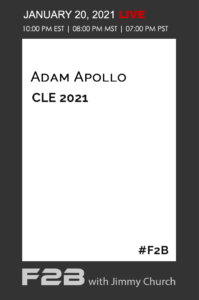 .
Tonight our guest is Adam Apollo and we are going to talk about contact, Disclosure, the new year and we will also announce the Conscious Life Expo 2021!!!
Adam Apollo has been a physicist, systems architect, designer and developer for nearly 20 years, founding several education and technology oriented companies and organizations, as well as producing hundreds of websites and works across data sovereignty, decentralization and cryptocurrency. He has been a featured speaker on future technology and unified physics at the White House, the United Nations, and at conferences around the world. As founder and CEO of Superluminal Systems, he built the Resonance Academy for Unified Physics, writing the college level Modern Physics module exploring physics history from Descartes to Planck.
As a child, Adam Apollo had several encounters with extraterrestrial starships. Since awakening at 15 years, Adam dedicated himself to extensive studies in symbolic geometry, past-life recall, sanskaric healing, Taoist alchemy, martial arts, energy therapies, occult magic, and many diverse ancient and modern spiritual traditions and practices. He has had countless contact experiences, organized CSETI and ECETI events, called and connected with hundreds of Starship crews, and developed a comprehensive knowledge of many species who have interacted with humanity over many millennia.
Websites:
https://www.adamapollo.com/
http://guardian.is/
https://resonancescience.org/