Fader Night - No More Fake News
February 7th 2018
ECETI Summer 2018
Soul Tech: Masters Gather To Change The Game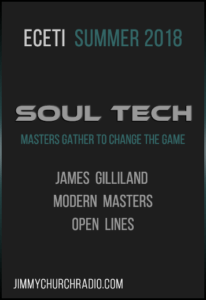 It's Fadernight!On this very special Fadernight we announce our Soul Tech conference at ECETI Ranch in August, 2018.
We will have James Gilliland and the crew from Modern Masters here to tell us all about it...who will be presenting and what this special event all about.
The Soul Tech conference is a gathering for everyone to learn, seek knowledge and to connect and create relationships that will last a lifetime.
Website: https://soultechgathering.com/
YOUR calls, YOUR thoughts, YOUR voice.
All that...
AND...
No More Fake News with Jon Rappoport.