Fader Night With Teresa Yanaros
November 8th 2018
On The Airwaves!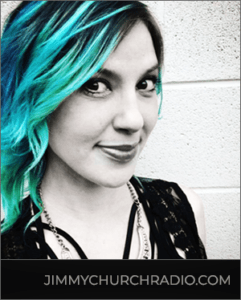 The times have changed and tides have shifted- let's ride the airwaves.
Thursday nights, tune in for high-energy mediaTAINment LIVE -
Divine Frequency's "On the Airwaves" with Teresa Yanaros will dive deep into the realms of the world, to explore the farthest reaches of the unknown. Leave no dimension unexplored!
Join Teresa for deeper perspectives on a vast array of news media topics. She covers current Events, latest news stories, refreshing analysis, and high-level uplifting perspectives. Teresa also does popular Culture Breakdowns of the latest in tastes of extraordinary people in entertainment media, technology, music, fashion, and film.
Join the wave of conversation and collaboration! Every week there will be opportunities to share your own stories, projects, and multi-media. Teresa will also answer listener questions about a wide range of alternative media topics, including news, popular culture, spirituality, and entertainment. This life is all about riding the wave between the known and the mystery.
For a sparkly dose of mediaTAINment and personal empowerment with a refreshing blast of glitter and truth, join Teresa on Thursday nights weekly. EMAIL questions and perspectives to "On the Airwaves" AT: [email protected]
Teresa Yanaros, a millennial advocate for spiritual enlightenment, shares inspirational perspectives through her multi-media project and YouTube channel "Divine Frequency" - a fully collaborative project with other inspired souls worldwide. Teresa is a multi-media enthusiast, a journalist and a writer with a passion for uncovering the truth behind the headlines and the realities, alike.