Giorgio Tsoukalos On Fade To Black
Fadernight Open-Lines
August 6th, 2020
anything but Aliens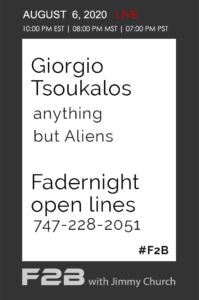 Tonight, Giorgio Tsoukalos joins us for a conversation that will be about anything but Aliens. Followed by Fadernight and open-lines.
Giorgio is the star and Consulting and/or Co-Executive Producer of History Channel's 'Ancient Aliens' from 2009 to the present.
Giorgio is changing the way the world thinks about the Ancient Astronaut Theory. For over 19 years, he has been the director of Erich von Daniken's Center for Ancient Astronaut Research. Giorgio has appeared on The History Channel, the Travel Channel, the National Geographic Channel, the Sci-Fi Channel and Coast to Coast AM.
Giorgio's Social Networks:
Twitter: @Tsoukalos
Instagram: @Tsoukalo