October 5th, 2020
The Pyramid Code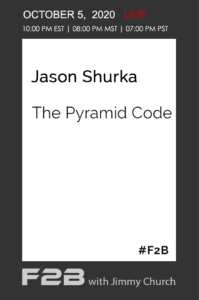 Tonight, our guest is Jason Shurka and we are going to discuss the document: "The Pyramid Code". The document is available for download in four different languages: Hebrew (the original), English, Italian, and Dutch on his website at the link below.
Jason is a spiritual teacher who focuses on teaching others how to use their mind to clear all emotional and physical blockages in order to unlock their limitless potential. He takes pleasure in traveling the world and exploring different cultures. He has dedicated his life to shining the light of presence and love on others, and thus expand the Light for others to shine onto the rest of humanity.
He is the author of "Forming the Formless" and "The Language of Engergy".
Website: https://www.jasonshurka.com/