August 4th, 2020
Dreams and Premonitions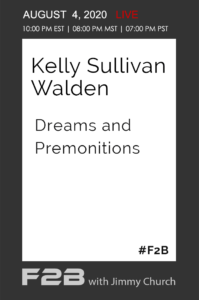 Tonight, Kelly Sullivan Walden joins us to help awaken the world to the power of dreams.
Kelly is the author of the bestselling books: Chicken Soup for the Soul: Dreams & Premonitions, I Had The Strangest Dream, It's All In Your Dreams, Dreaming Heaven, Dream Oracle Cards, Discover Your Inner Goddess Queen, and Goddess Queen Pearls of Wisdom Journal.
She has reached millions of people with her fun and illuminating message on national talk shows such as Doctor Oz, Ricki Lake, The Real, Bethenny, Huffington Post Live, Coast to Coast AM, Playboy radio, The Jenny McCarthy Show, FOX news and is a favorite guest on FADE to BLACK.
Kelly's latest book is: Dreams and the Unexplainable
Website: http://www.kellysullivanwalden.com/

Home
America's Dream Expert, Bestselling author, Certified Clinical Hypnotherapist, inspirational speaker; Kelly hosts the Ask Doctor Dream radio show.