OFF Air On Fade To Black
July 4th 2018
HAPPY INDEPENDENCE DAY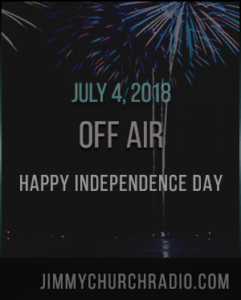 July 4th, or, Independence Day, has been a federal holiday since 1941. On July 2nd, 1776 the Continental Congress voted for independence and two days later the 13 original colonies adopted the Declaration Of Independence.
HAPPY 4TH OF JULY!!!
From all of us at Jimmy Church Radio, have a great 4th of July and we will be back next week.