Ron Keel On Fade To Black
October 6th, 2020
The Metal Cowboy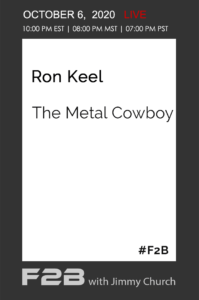 Tonight, our guest is Ron Keel and we are going to talk Rock-n-Roll, UFOs, Conspiracy, the Paranormal and what it's like to grow up to be The Metal Cowboy.
From the first Steeler album, Ron Keel's 35-year career has taken him from the concrete jungles of arena rock to the dirt roads of country music. Ron has sold millions of albums and toured the world as both a heavy metal screamer and a southern rock/outlaw country artist.
Keel's debut album THE RIGHT TO ROCK was produced by KISS' Gene Simmons – they went on to notch three albums on Billboard's Hot 100 as well as MTV and radio hits "The Right To Rock," "Because The Night," "Tears Of Fire," "Somebody's Waiting," and "Rock N Roll Outlaw."
Keel has toured with Bon Jovi, Van Halen, Aerosmith, Motley Crue, Dio, Y&T, Queensryche and his 2019/2020 World Tour included the Monsters Of Rock Cruise (Belize/Cozumel), Australia, the Frontiers Rock Festival in Milan, Italy, the KISS & Rock N Roll Expo in Helsinki, Finland, and KEELFEST (featuring Keel, Ron Keel Band and Steeler) plus major bike events like the Sturgis Rally and Hot Harley Nights.
After nearly three years hosting the "Streets of Rock & Roll" rock-and-talk syndicated radio show, Keel was handpicked to join a dream team of Midwest rock radio royalty on KBAD 94.5 FM, where Ron's "Mid-Day Mayhem" show skyrocketed to the top of the Neilson ratings for that region. He's now back on the "Streets Of Rock N Roll" with weekly broadcasts on Total Rock Radio, PureRockRadio.net, 97Underground, Philly Rock Radio, RockRageRadio.com and more.
As a songwriter, Ron has dozens of TV and film credits – major movies like "Men In Black II," "Dolphin Tale," "The Messengers", and TV shows "X-Files", "Desperate Housewives", "The Simpsons", "King Of The Hill", and the Daytona 500 broadcast.
Website: https://ronkeel.com/