October 7th, 2020
Ask Me Anything...
Edward Van Halen Tribute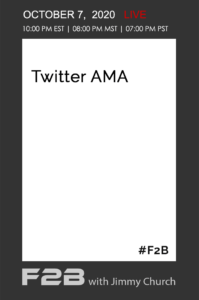 Tonight is our Twitter AMA!
A full night of your questions, all of them, unscripted, uncensored and answered.
Just go to the Sandbox on Twitter with #f2b and #f2bq and post your questions. You can follow Jimmy: @jchurchradio on Twitter.
Every AMA is a jam-packed night with hundreds of questions being posted. So, post early and post often. This is your show and a great opportunity to ask Jimmy the questions that you've always wanted an answer to... but were to chicken to call in during Fadernight. It's OK, we understand.
Website: www.jimmychurchradio.com
Twitter: @JChurchRadio