August 19th, 2020
On Drumming, Death Angel, and NDE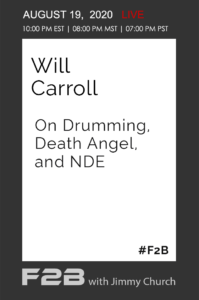 Tonight, our guest is Will Carroll, the drummer for Death Angel.
Two months after Death Angel was nominated for their first Grammy Award, Will had contracted Covid-19 while the band was on tour and was on a ventilator in a medically induced coma, fighting for his life in a San Francisco hospital.
Tonight we will discuss the visions he had during those 12 days in a coma and how it has changed his life.
We will also talk some music, spirituality, and what it's like to play in one of the great metal bands in the world today.
Death Angel has released nine studio albums, two demo tapes, one box set and two live albums and is one of the "big eight", which includes Metallica, Megadeth, Slayer, Anthrax, Testament, Exodus and Overkill.
Their recent studio album, Humanicide, was released on May 31, 2019, on Nuclear Blast.
Website: https://www.deathangel.us/