On Fade To Black
May 15th 2017
Ancient Egypt: Electric Power Systems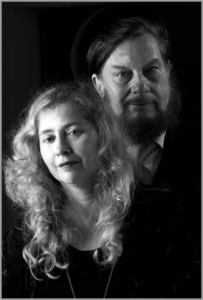 DR. J. J. HURTAK, Ph.D., Ph.D., M.Th. and Dr. DESIREE HURTAK, Ph.D., MS. Sc. are founders of The Academy For Future Science, an international NGO that works to bring cooperation between science and consciousness to assist the various cultures of the world.
Drs. Hurtak have accomplished extensive archeological studies in Egypt and were one of the principal discoverers in 1997 of the "Tomb of Osiris" on the Giza Plateau.
Dr. J.J. Hurtak is the author of numerous books including, The Book of Knowledge: The Keys of Enoch®, translated into seventeen languages and the End of Suffering that he co-authored with physicist Russell Targ. Together, the Hurtaks have written several books including their latest, Overself Awakening.
The Hurtaks have also written several commentaries on the ancient Egyptian-Coptic manuscripts of The Pistis Sophia and The Gospel of Mary (Magdalene).
Their most recent book entitled Mind Dynamics is on remote viewing co-authored with physicist Elizabeth Rauscher.
Websites:
http://www.keysofenoch.org
http://www.futurescience.org