January 4th, 2021
E.T. Contact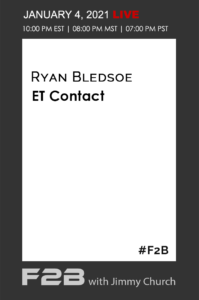 .
Tonight, kicking off a brand new year and our first show for 2021, Ryan Bledsoe, the son of Christopher Bledsoe Sr., joins us for the first time to discuss his life of ET contact with both himself and his family.
Chris Bledsoe and his family are one of the most documented contact stories right now and have been investigated and covered over the last decade by both private researchers and government agencies.
Tonight will be Ryan's first exposure on a major radio broadcast or network and he'll be with us for the full show, sharing his experiences with our audience.
Website: https://www.facebook.com/BloodOfASavior