November 3rd, 2020
Election Night in America LIVE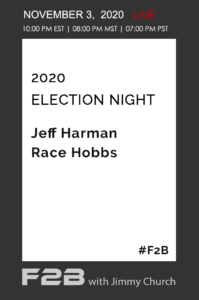 Tonight, it's November 3rd, Election Night in the US and we are going live all night long to follow the results as they come in from around the country with special guests: Jeff Harman and Race Hobbs.
During a year where both the US and the world experienced a pandemic, crashing economies, riots, and conspiracies, this may be the most important night in US history and we are here, live, to follow the evening's events as they unfold.
Here at Fade to Black, it has been our policy not to do politics on our show. We covered the 2016 election night with a live broadcast and we are going to do the same thing this time as well... our audience understands our position when it comes to having a politics free zone... but they also know that we have to cover what may be an absolute turning point in history.
No matter the results, we ask every member of our audience and the nation, to be calm, civil, and Americans throughout the night on all of our social media network during the show.
Websites:
https://www.jeffharman.com/contact.html
https://kgraradio.com/