Terry Lovelace On Fade To Black
June 12th 2018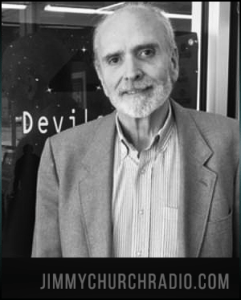 Terry Lovelace, Esq, author of "Incident at Devils Den", is a lawyer and former Assistant Attorney General. Terry was active duty Air Force from 1973 to 1979 and trained as a medic/EMT. His entire enlistment was spent at Whiteman Air Force Base in Western Missouri.
Terry ended his enlistment and completed a bachelor's degree in Psychology at Park University and a Juris Doctor from Western Michigan University.
He practiced criminal defense and civil litigation in private practice before moving to civil service. Terry accepted a position as an Assistant Attorney General for the US Territory of American Samoa. In 2012 he retired as an Assistant Attorney General from the State of Vermont and moved to Dallas.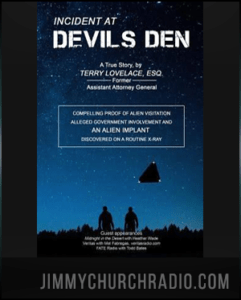 In 2012 a routine x-ray of Terry's leg found an anomalous bit of metal the size of a fingernail with two tiny wires attached. What followed were horrific nightmares, spontaneous recall and intrusive thoughts surrounding a 1977 camping trip he took with a friend to Devils Den State Park in Northern Arkansas. For fear of losing his job and his standing in the legal community Terry had kept this secret for 40 years. But the 2012 discovery of this object, one and one-half inches deep in his thigh, initiated a flood of horrific memories, and compelled Terry to come forth with the true story: Incident at Devils Den, a true story by Terry Lovelace, Esq.: Compelling Proof of Alien Existence, Alleged USAF Involvement and an Alien Implant Discovered Accidentally on X-Ray.
"Incident at Devils Den" is published on Amazon and is #1 BESTSELLR in Genre 3 times.
You can purchase the book HERE