September 2nd, 2020
The Khemit School of Ancient Mysticism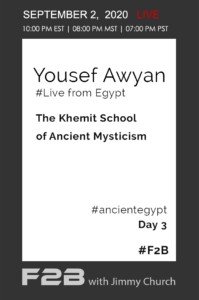 Tonight, it's night three of our Egypt Week and live from Cairo and the Giza Complex, our guest is Yousef Awyan.
Yousef Awyan was born, raised and still resides at his family's home in Nazlet el Saman, which lies just a few meters from the Sphinx Entrance to the Giza Plateau. Yousef grew up listening avidly to his father, Abd'El Hakim Awyan, talk about the secrets and mysteries of ancient Khemit (Egypt). Sharing his passion, he honors his father's memory by continuing to share his wealth of knowledge and wisdom. He is devoted to revealing, researching and teaching the amazing truths of Egypt's and our collective heritage.
Yousef met and married his wife, Patricia in 2008, and together they created The Khemit School of Ancient Mysticism as an open forum to share the teachings of Hakim, and to continue on with the exploration and research of the ancient mysteries, both on and off the sites.
Yousef reads and interprets the hieroglyphs, symbols and images found in Egypt, from a unique perspective as taught to him by his father, as well as through his own research and continual study.
Website: http://www.khemitology.com